Mardi's first day at the beach went pretty well. He was just unsure of everything, but we did end up coaxing him into the water and he realized it was nothing to be scared of.

As hard as it was loosing our last furry friend, we were ready to jump right back into it and picked up a 10 week old Weimaraner. We left on Friday night and headed towards the New Orleans area. We found this wonderful breeder who had available a puppy to the right home. We were fortunate enough to be that home. The first 25 minutes of the car ride where torture to all 3 of us. Someone cried very loudly and once he figured out that nothing was going to change he relaxed and slept most of the ride.

Meet our New Puppy!
Powered by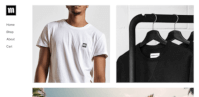 Create your own unique website with customizable templates.